BLUETTI EB150 Black 1500Wh/1000W Portable Power Station
Highlights:
Huge Capacity and load: 1500Wh/1000W(Max.), overload capacity: 1000W ≤load<1200W @2Min; 1200W≤load @1s.
Built-in a Top-brand LG battery cell, reliable and safe assured.
All-in-1 power station with various outputs:2*AC outlets for most household appliances under 1000W,1*DC12V for car-powered devices,1*PD Type-C (Max 45W) for USB-C devices,4*5V3A(Max) USB.
AC/Solar recharged: it takes 10hrs to be fully charged by the AC wall outlet. Charge time varies on the solar panel(higher power of the panel, shorter charge time)
MPPT high-efficient solar charging.
Pure sine-wave.
Battery management system (BMS), Multi-protection, and more safeguards.
Size&net weight: 14.6*6.5*14.4inch,37.9lb.
12-month replacement or maintenance warranty.
[features]EB150 Portable Power Station, Power Outdoor.
The MAXOAK Bluetti EB150 is a HUGE CAPACITY portable power station with a lithium-ion battery capacity of 1500Wh ( LG Li-ion battery cell, 101,351mAh/14.8V( equivalent to 405,405mAh 3.7V)),1000W pure sine wave output, PD Type-C Quick Charge (Max.45W), and Two ways of recharging (solar / wall).
Unlike other small-capacity power stations, it has a broader capacity and can charge higher power devices like electric drills, hair dryers, and blenders (make sure the max. of your device is no more than 1000W). once fully recharged the power station EB150, the huge capacity 1500Wh ensure your device has a much longer charge time, no need to recharge it time and time again.
Capacity:1500Wh (405000mAh/3.7V , 101351mAh/14.8V)
Battery: LG Li-ion battery cell, 101351mAh/14.8V
AC/PV Input: 7.9*0.9mm DC, 42V/160W, OCV 16V~60V /MAX.10A 
AC Output: 110V,Max.1000W
Car Port: DC 12V/9A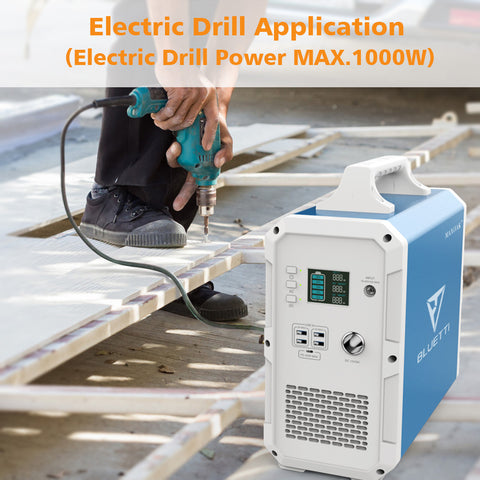 Highest Capacity Power Station
1500Wh/1000W(Max.), Longest Lasting Lithium Power Station, Specially
Designed for High-power Device Such as Blender, Drill, Hair Dryers
(Max.1000W).
 [/features] [specifications]specifications [/specifications] [videos]videos[/videos] [manual]manual[/manual]
Good so far, I am very impressed. Works awesome, and charges fast.
Good so far, I am very impressed. Works awesome, and charges fast.
Good so far, I am very impressed. Works awesome, and charges fast.